The Greenway 500 Bike Shop is adjacent to the Cardinal Greenway at the Medford Trailhead (500S & Hwy 35 - map), minutes from downtown Muncie.
At the new shop in East Central Indiana, I look forward to serving you, and servicing your bike to enhance your enjoyment and propel your performance.
Why Come to Greenway 500?
Superior Knowledge
Superior Service
Large Parts Inventory
Quick Turn-around
We also service and sell tandems and recumbents
The Flat Tire Lounge, snacks and drinks
I have more than 20 years of experience, and am committed to keeping up with changing technology. This makes me your number one choice for expert bicycle service. I gained experience in repairing, building and tuning bicycles in Memphis, Tennessee, Worcester, Massachusetts, and Spencer, Massachusetts, where I was manager and head mechanic.
Since moving to Indiana in 2005, I worked at the downtown Muncie bike shop until opening the Greenway 500 Bike Shop.
Even though I have ridden, trained, raced, and pedaled across the U.S. five times, I probably still have more hours with a wrench in my hand than I have hours in the saddle. I will use that experience to give you superior service.
Greenway 500 Repair Services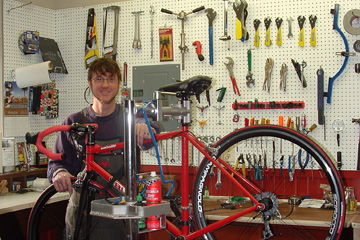 Michael O'Neil - Owner, and Mechanic
See some of Mike's Bikes

Greenway 500 Bike Shop is proud to be the Newest, Finest, Absolute Fuji, Kestrel, TerraTrike and Breezer dealer in East Central Indiana.
(Newset, Finest, and Absolute are just three of Fuji's models).